"Distinguished by her polished, multifaceted and intimate playing."
(Bayerischer Rundfunk)
---
As a soloist, chamber musician, and orchestral musician, Xenia Löffler has gained an outstanding reputation as a baroque oboist over the past several years. Working with ensembles such as the Akademie für Alte Musik Berlin, where she has been active as a member and soloist since 2001, she has toured throughout the world and has performed at some of the most important music festivals and concert halls.
Numerous CD recordings, featuring her as a soloist, as the leader of the Amphion Wind Octet, and as an oboist in numerous orchestras display her wide range and mastery of repertoire ranging from the baroque to the romantic.
---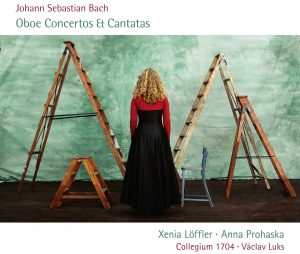 The new CD with oboe concertos and cantatas by Johann Sebastian Bach is here!
Johann Sebastian Bach seems to have been very fond of both the sound and the expressive power of the baroque oboe, an instrument which was in his time still relatively new. We oboists are thus richly endowed through his instrumental works for our instrument, as well as through the numerous arias in which we can, in dialogue with a singer, approach the sublime.
On our new CD we present these aspects with two reconstructions of possible original versions of the harpsichord concertos BWV 1055 and 1056, together with two soprano solo cantatas, as well as a new arrangement of the double harpsichord concerto BWV 1061 in a version with four concertante instruments, specially prepared for the recording by Tim Willis.
I am delighted and very thankful to have been able to realise this project with the fantastic soprano Anna Prohaska, not to mention my wonderful soloist colleagues Helena Zemanová (violin), Györgyi Farkas (bassoon) and Vittorio Ghielmi (viola da gamba). A special word of thanks must also go to my long-time musical friend and companion Václav Luks and his outstanding musicians of Collegium 1704, who energetically supported and enabled the entire project.
Audio samples: Johann Sebastian Bach: Oboe Concertos & Cantatas.
The CD is available at jpc among others.
You can find a series of photos of our cd recording taken by Pablo Kornfeld here: Open gallery.